Kyle Bernlohr Goalie Academy PRO DAY · Male
MonTueWedThuFriSatSun 7:00pm to 9:30pm
Individual Fees

Regular

$149.99

+ Transaction Fee
KBGA PRO DAY


I am so excited to have three of the best goalies of the past decade to Cleveland, OH! Beyond their incredible playing careers, all three of these coaches have given their lives to coach goalies full time and have logged years of experience teaching the position. I am so excited for you to learn about their background, what made them successful, and ultimately run you all through drills and skills that they believe at their core will set you up for success in the crease. We love teaching this position, its what we do, and we hope you all come out for a 2.5 hour grind of the best goalie experience you can get anywhere in the midwest. Come out and show us what you are made of and finish off with a chance to be crowned a champion of your age group! Additionally, each goalie will leave with an informational packet covering all things recruiting; from the beginning process, to contact periods, how to address your emails, highlight film, and all the "do's and dont's". We are here to set you up for success and we cannot wait to get after it with you all! Stay healthy, enjoy your winter, and we will see you at the end of January!
Kyle Bernlohr


Saturday, January 29th
7-930pm
Force Sports (Rocky River)
Open to Boys 2022's - 2027's
-Advanced goalie specific agility and handwork
-College level goalie & shooting drills from current and former collegiate players
-Informational recruiting packet with D1-D3 info provided to all attendees
-Competition to be crowned champion of your age group
STAFF
Kyle Bernlohr

Hometown: Akron, OH
College: University of Maryland
2x NCAA D1 All American
2015 Goals Against avg. Leader
3x Professional Lacrosse Save Percentage Leader
3x Professional Lacrosse Champion
PLL (Whipsnakes LC) 2019 - present
4 years of D1 Coaching experience
Scott Rodgers

Hometown: Wantagh, NY
College: Notre Dame
2010 NCAA Championship MVP
2009 NCAA D1 Goals Against avg. & Save Percentage Leader
2x NCAA D1 All American
PLL (Atlas LC) 2019-2020
3 years of D1 Coaching experience
Jack Runkel
Hometown: Fairfield, CT
College: Loyola University
2012 NCAA Champion
Patriot League Goalie of the Year
MLL (Bayhawks, Hounds, Cannons)
Founder of The Goalie Workshop LLC
7 years of D1 Coaching Experience
Gunnar Waldt
Hometown: Baltimore, MD
College: Bryant University
Bryant's All-Time Leader in saves (739)
3x NCAA D1 All-American
2x Tewaaraton Semi- Finalist
2x NEC Defensive Player of the Year
PLL (Redwoods LC) 2019-2020
Supplemental Staff
There will be a plethora of former or current collegiate players assisting the pros in their drills to ensure maximum work for every goalie.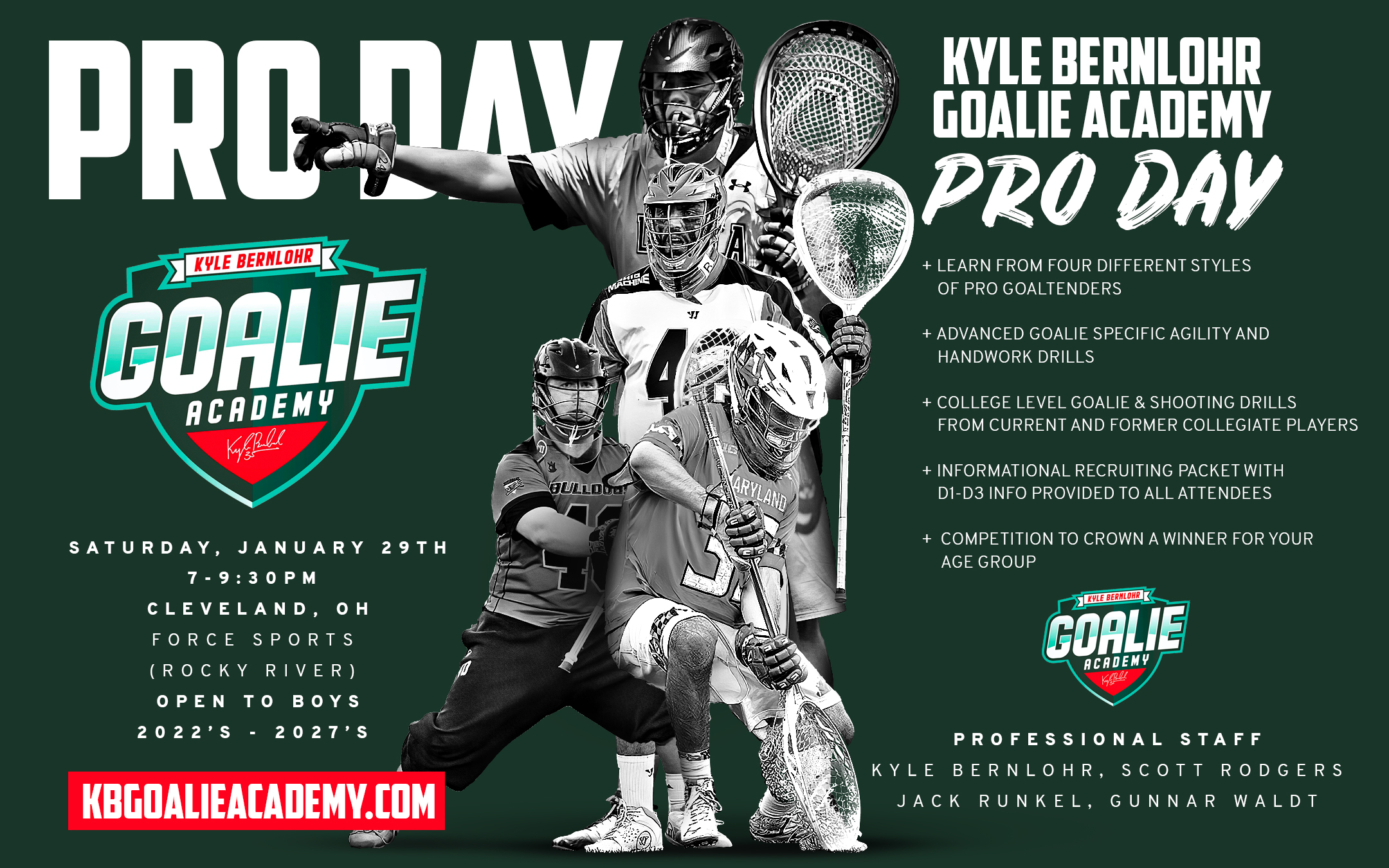 *Full refunds will be honored until 1.19.22 If you are unable to attend for any reason. After 1.19.22 There are no refunds.